Published : 10 Mar 2023 09:42 PM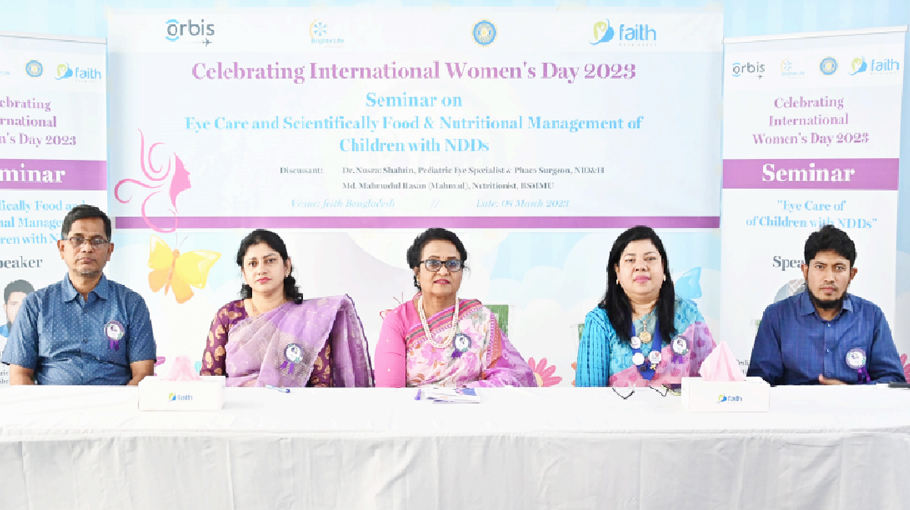 Speakers at a seminar have laid emphasis on the need for offering proper eye care to the children with neurodevelopmental disorders (NDDs) to contribute to their overall development and well-being.
They said that as the children with NDDs cannot properly inform anyone of their problems, they deserve special attention from their families and society.
Faith Bangladesh, in collaboration with Orbis International, Inner Wheel Club Dhaka Oasis, and Brighter Life School for Mothers of Special Children, organised the "Seminar on Eye Care and Scientifically Food & Nutrition Management of Children with NDDs" on Wednesday (Mar 8) in the capital to mark International Women's Day 2023.
The event was aimed at creating awareness about the importance of eye care and proper nutrition management for children with NDDs.
It brought together experts in the fields of eye care and nutrition, who shared their knowledge and experiences with the attendees.
While presenting the keynote speech, Dr Nusrat Shahrin, a paediatric eye specialist and Phaco surgeon from the National Institute of Ophthalmology and Hospital (NIOH), shared her insights on the importance of eye care for children with NDDs.
Dr Nusrat advised the parents and guardians of the children with NDDs to take them to ophthalmologists for eye check-up before admitting them to special schools.
She added that these children require special arrangements in the schools and facilities for regular eye check-up.
Another keynote presenter Md Mahmudul Hasan (Mahmud), a nutritionist from IPNA, Bangabandhu Sheikh Mujib Medical University (BSMMU), which is also a partner of Orbis, spoke about the scientifically-proven methods of food and nutrition management for children with NDDs.
He shared tips and strategies for parents and caregivers to ensure that children with NDDs receive the necessary nutrients for their growth and development.
Nilufer Karim, Executive Director of Faith Bangladesh, AKM Nurul Kabir, Program Manager of Orbis International, and Shahida Hayder Dipti of Inner Wheel Club, also spoke at the event, among others.
The seminar was attended by mothers and caregivers of children with NDDs, as well as representatives from various organisations working in the field of child development.
The participants were actively engaged in the seminar and had the opportunity to ask questions and share their own experiences.
 Nilufer Karim expressed the hope that they would be able to continue such initiatives in the future to further improve the health and well-being of children with special needs.