Speakers say at eye screening program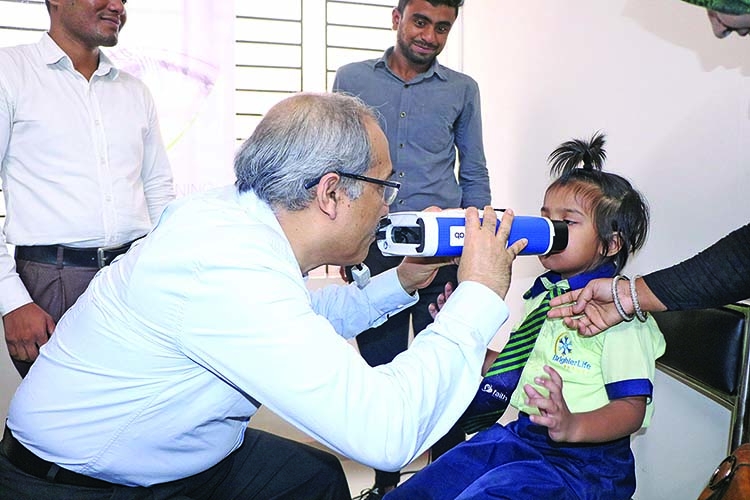 Health experts have urged all concerned to bring children with special needs under modern eye care services for improving their lives as they deserve special attention in eye care. They made the call while speaking at an eye screening program organized for special children in the capital's Lalmatia recently by Orbis International Bangladesh Country Program and Faith Bangladesh jointly.
During the program, the first one in the country to include special children in modern eye care, 24 children — 18 boys and six girls — were screened. Of them, 12 patients were referred to the National Institute of Ophthalmology & Hospital (NIO&H) for further investigation and treatment.

Director General at the Directorate General of Medical Education (DGME) Prof AHM Enayet Hussain, who is also the Chair at the Bangladesh Chapter of IAPB South Asia Region, inaugurated the program as the chief guest.
Among others, Orbis International Country Director Dr Munir Ahmed, and Faith Chairperson Dr Aftab Ahmed and Executive Director Nilufer Ahmed Karim were present at the programme.
Orbis Associate Director (Clinical Services, Program Technology and Research) Dr Lutful Husain provided all sorts of technical guidance to the medical team performing the screening.
In his inaugural speech, Prof Enayet said, "It's very challenging to conduct eye examination on special children. But we have taken this challenge as an opportunity. To achieve SDG goal, we will have to ensure no one is left behind."
Mentioning that Bangladesh cannot properly address the eye care issue of special children thanks to various social reasons, he said Orbis and Faith Bangladesh, however, have brought this opportunity for special children.

He thanked the medical team from NIO&H for their support to the eye screening program.
Dr Munir said Bangladesh needs to strengthen the capacity of the schools and paediatric eye care units throughout the country where special children are growing up. "We shouldn't forget that special children need special attention," he added.
A medical team from NIO&H, comprising an ophthalmologist and three resident doctors, performed the eye screening on the children. Dr Enayet Hussain himself examined the eyes of two children.
Faith Bangladesh extended special thanks to Dr Munir and his team for partnering with them and co-hosting the event. They also thanked the special children and their guardians for supporting the event.