AA Correspondent
Published: 12:56 AM, 12 January 2021
McWeadon Education (McWeadon.com), Bangladesh and faith Bangladesh jointly organized an international webinar on 'E-Learning and the Future of Higher Education' on January 09, 2021.In that webinar, the global leaders from the United States of America (USA) and Bangladesh shed light on the pros and cons of using E-learning and Blended Learning approach in the higher education during the COVID-19 pandemic.
The keynote speaker Wirth Professor Chris Dede, Professor in Learning Technologies, Harvard University shared his four-decade long experience and insights regarding distance learning in higher education emphasizing the importance of Life-long Learning. While addressing the questions to audience, he also expressed his keen interest to leverage his resources to promote higher education in Bangladesh.
Prof. Dr. Md. Fayyaz Khan, Vice Chancellor, BUBT shared a mixed feeling about the preparedness of Bangladeshi universities during COVID-19. He highlighted the challenges of online teaching and learning and asked for holistic approach to prepare both private and public universities to cope with the current challenges in higher education.
Dr. Joseph Rene Corbeil, Professor, Educational Technology, Teaching and Learning, University of Texas Rio Grande Valley, emphasized capacity building of faculty through more investment and resources, and make the distance learning successful and effective which is imperative now during this COVID-19 pandemic.
Worthy of note that Dr. Reggie Smith, Executive Director, United States Distance Learning Association (USDLA) shared the best practices and challenges for distance learning in context of USA. To address the challenges faced in the developing country like Bangladesh, he suggested to develop collaborative efforts with universities in the USA.He also expressed his interest to extend the liaison of USDLA with McWeadon Education in Bangladesh.
Dr. Badrul Huda Khan who is President of McWeadon and also popularly known as the founder of modern E-learning moderated the webinar. Besides, while sharing his octagonal framework on E-Learning/Blended Learning, he emphasized on the needs of stakeholders (e.g. institution, faculty, student and community) to make a meaningful use of technology in the higher education. The webinar was presided over by Dr. Aftab Uddin, Vice President & Chief Executive Officer, McWeadon Education, Bangladesh.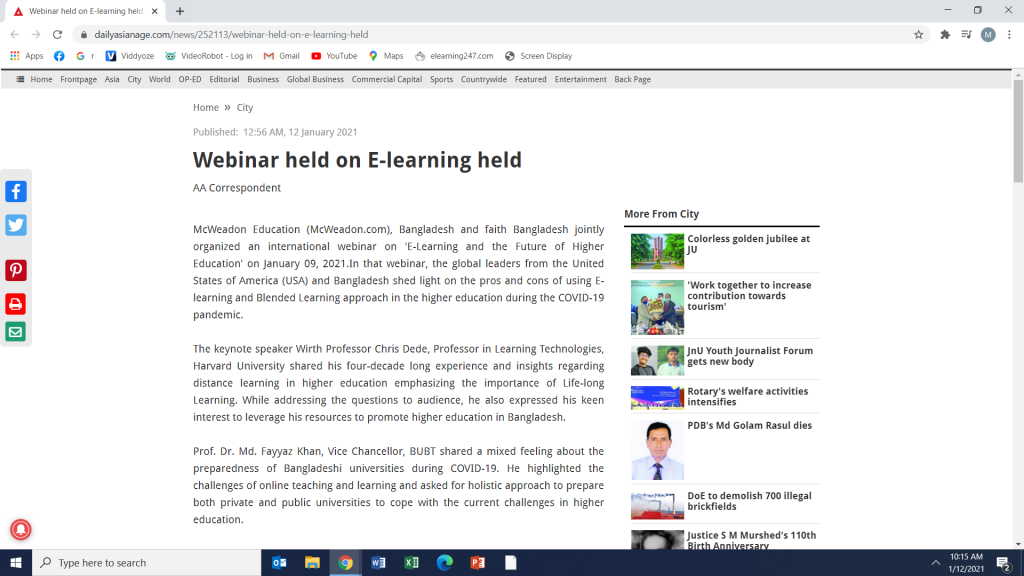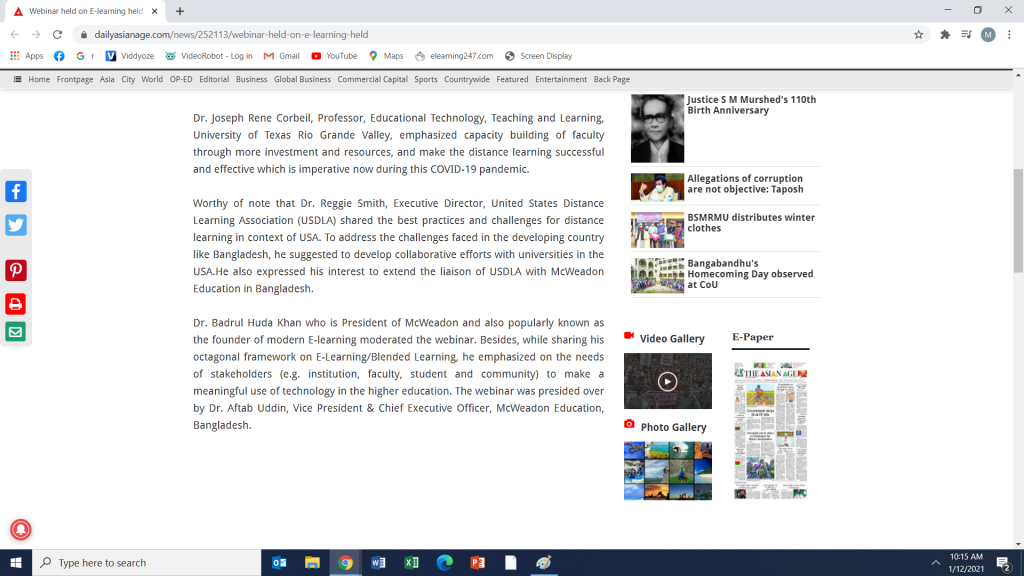 https://dailyasianage.com/news/252113/webinar-held-on-e-learning-held