Health Desk | banglanews24.com; Update: 2018-02-28 9:41:26 AM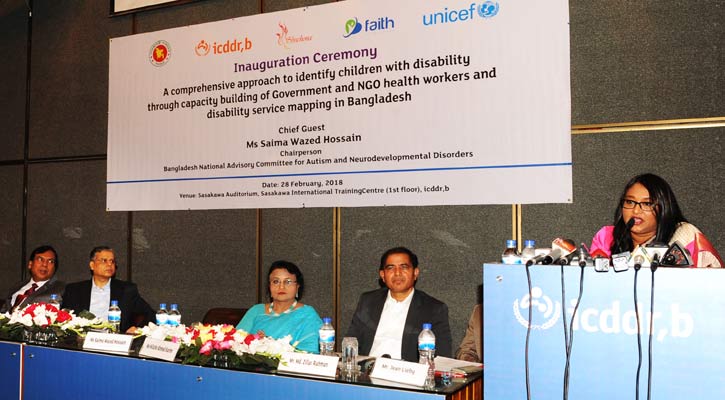 DHAKA: "A comprehensive approach to identify children with disabilities through capacity building of Government and NGO health workers and disability service mapping in Bangladesh" project has been launched on Wednesday (February 28) with the aim of early identification of children with disabilities and to strengthen the capacity of relevant stakeholders. The fifteen-month project is funded by UNICEF Bangladesh and icddr,b is implement the project in collaboration with faith Bangladesh while Shuchona Foundation is providing technical guidance.
An estimated 16 million people, or 10% of the country's population have disabilities in Bangladesh. While early intervention is a key to long-term success and making progress in addressing children with disabilities, there are no effective early identification measures in place. For the first time in Bangladesh, this project will validate appropriate screening and diagnostic tools for identifying children with disabilities aged between 0 to 18 years in line with global measures. It will also strengthen the capacities of frontline workers of Ministry of Social Welfare (MoSW) and Ministry of Health & Family Welfare (MoHFW).
The project will also help develop a referral linkage with appropriate service providers for different types of disabilities through service mapping based on facility information. Best practices of the project and successful strategies will also be documented to ensure further scalability of the project components by the relevant Departments and Ministries of the Government.
Speaking on the occasion Jean Lieby, Head, Child Protection Unit, UNICEF Bangladesh said, "We believe we will have a model intervention which will contribute to reduce the challenges faced by children with disabilities and their family members."
Md. Zillar Rahman, Secretary, Ministry of Social Welfare, Government of Bangladesh highlighted the existing policies, practices and challenges related to children with disabilities, he also stressed on the collaborative effort for creating an inclusive society.
Saima Wazed Hossain, Chairperson, Bangladesh National Advisory Committee for Autism and Neurodevelopmental Disorders, Member of the World Health Organization's Expert Advisory Panel on Mental Health, and Chairperson, Shuchona Foundation graced the occasion and inaugurated the event as the Chief Guest. She commented on the various aspects of the project and also expressed her vision, she said, "Disability is everybody's issue, it is something that we all need to understand better, we all need to work together, we all need to change the way we think of an individual or a family that has somebody living with a disability. We can learn as a community, as a country, and make our nation a success and a role model for the rest of the world."
Prof. Dr. Abul Kalam Azad, Director General DGHS; Dr. Kazi Mustafa Sarwar, Director DGFP; UNICEF; Syed Monjurul Islam, Acting Executive Director, icddr,b; and Nilufer Ahmed Karim, Executive Director, faith Bangladesh were also present on the occasion among others.
BDST: 2035 HRS, FEB 28, 2018
AP