Senior Correspondent, bdnews24.com
Published: 11 May 2017 02:01 AM BdST Updated: 11 May 2017 02:01 AM BdST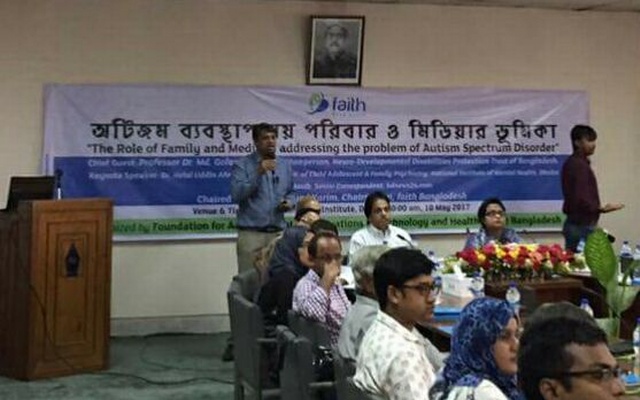 Speaking at a roundtable, a group of parents share their horrendous experiences they face in their daily life with their children.
Faith Bangladesh, an NGO, organised the roundtable on the 'role of family and media in autism' at the Press Institute of Bangladesh in Dhaka on Wednesday.
Autism spectrum disorders (ASD) are a group of complex brain development disorders. This umbrella term covers conditions such as autism and Asperger syndrome.
These disorders are characterised by difficulties in social interaction and communication and a restricted and repetitive repertoire of interests and activities.
According to the WHO, reviews estimate that 1 child in 160 has an autism spectrum disorder. Some recent studies have, however, reported rates that are substantially higher.
A mother working at a research organisation suggested screening of all under-3 children for early detection of autism.
She said parents cannot understand the signs and symptoms of autism. "When detected, it is already late," she said.
"Like the immunization programme, if we could bring all the children below three years under an autism screening, then the problem of detection could be solved".
A lawyer shared his own experiences of running one doctor's chamber to another to get his son's disease diagnosed. Later it was diagnosed autism, he said, adding that his school did not keep him after the detection.
"We don't need sympathy. We want correct information be disseminated through media".
Assistant Professor of Child Adolescent and Family Psychiatry,National Institute of Mental Health (NIMH) Dr Helal Uddin Ahmed stressed on training journalists for writing autism and other neurodevelopmental disorders.
He said there are guidelines for journalists in the Western world on what to write and how to write.
For example, he said, "don't say autistic children, better say children with autism".
He said parents, family and society have role to play in autism care, asking parents not to keep their children with autism confined at home.
Faith Bangladesh Chairperson Nilufer Ahmed Karim chaired the roundtable.