Senior Correspondent, bdnews24.com
Published: 04 Dec 2018 10:16 PM BdST Updated: 04 Dec 2018 10:16 PM BdST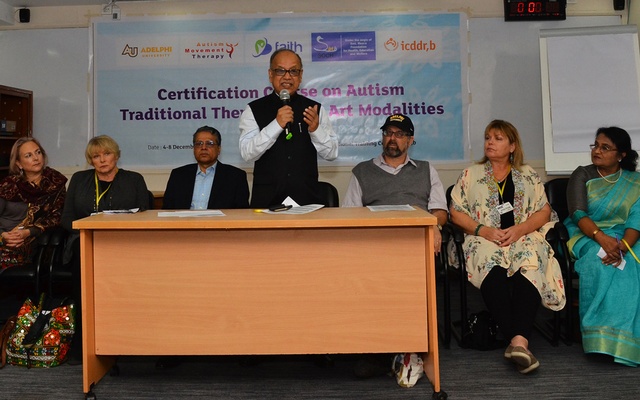 Faith Bangladesh organised the five-day course from Tuesday titled 'Traditional Therapies and Art Modalities' in association with Adelphi University of the United States.
Highly experienced faculties from different universities are conducting the course.
Of the faculties, Stephen Mark Shore, Joanne Lara, Jane Ferris Richardson and Karen Schaefer Howard have come from the US while Ali Golding has flown in from the UK and Manish Samnani from India.
Faith Bangladesh Executive Director Nilufer Ahmed Karim was also present at the inaugurating session with University Grants Commission Chairman Prof Abdul Mannan as chief guest.
According to organisers, Bangladesh is facing a big challenge of handling autism, a development disability, as at least 17 per 10,000 children in the country have autism spectrum disorder.
Speakers said Bangladesh needed greater attention to the issue and a comprehensive plan to address it.
They said children with autism are no burden on society. They can be assets if raised properly and given proper care.
Prof Mannan said children with autism "deserve good treatment and honour, not sympathy, from society".
He said Bangladesh has done a lot when it comes to protection of the rights of people with disabilities but it has still miles to go.