Staff Correspondent | Published: 01:27, Dec 05,2018 | Updated: 01:29, Dec 05,2018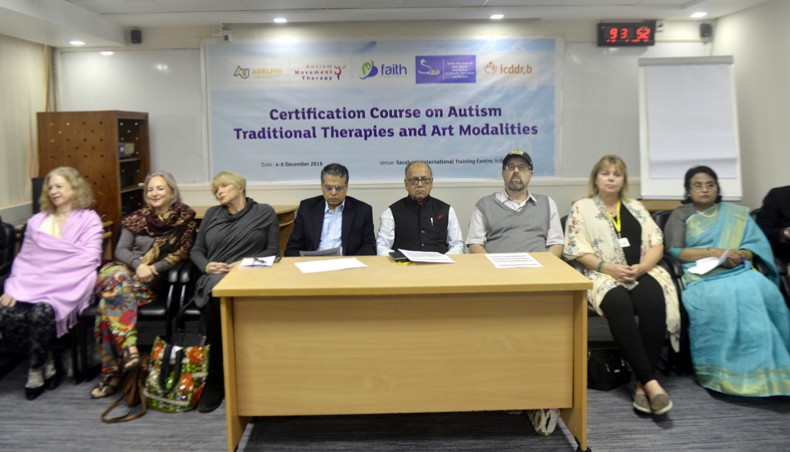 A five-day certificate course on autism management kicked off at ICDDR,B in the capital Tuesday to train up professionals for taking care of autistic children.
The first ever such training course in Bangladesh drew 42 autism professionals including doctors, therapists and parents.
At the international standard course participants would learn art therapy, music therapy and play-based therapy among new modalities for taking care of autistic children.
On completion of the course participants would be able to train others in taking care of autistic kids.
The course on 'Traditional Therapies and Art Modalities' was organized by Faith Bangladesh and ICDDR,B with support from Adelphi University of the United States.
Highly experienced faculties including Stephen Mark Shore, Joanne Lara, Jane Ferris Richardson and Karen Schaefer Howard from the US and Ali Golding from the UK and Manish Samnani from India are conducting the course.
University Grants Commission chairman Abdul Mannan inaugurated the course while ICDDR,B deputy executive director Syed Monjurul Islam chaired the session.
Faith Bangladesh executive director Nilufer Ahmed Karim spoke at the session.
According to organisers, Bangladesh is finding it challenging to handle autistic children with at least 17 in 10,000 children having autism spectrum disorder.
The speakers said that Bangladesh needed to pay greater attention to the issue and take comprehensive plans to address autism.
They said children with autism were not burdens on the society and by raising them with care they could be made assets.