News Desk, bdnews24.com
Published: 07 Dec 2015 09:09 PM BdST Updated: 07 Dec 2015 09:09 PM BdST
Public Health Foundation of Bangladesh, in a press release, said the startling revelation was made at a conference that got underway at iccdr,b in Dhaka on Monday.
 
At the conference, the release said, it was further stated that many people in the country could not even afford treatment for diseases like cancer, kidney failure, diabetes and hypertension.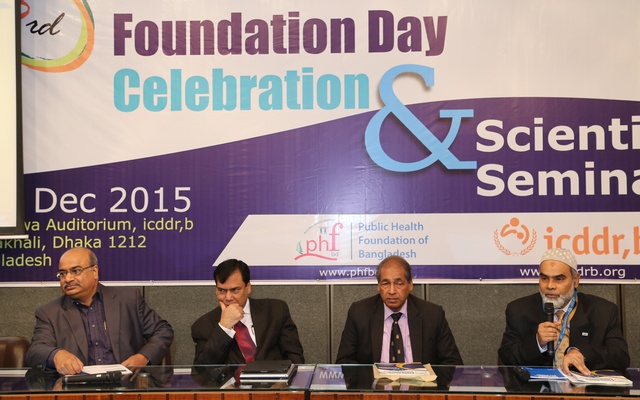 The experts at the conference were of the opinion that since many people were not able to afford treatment, emphasis should be laid on their prevention, the release said.
 
Twenty-five study reports and papers were presented on the first day of the conference, organised by Public Health Foundation of Bangladesh and Faith Bangladesh to mark the third Public Health Foundation Day.
 
Papers on diverse health issues, including health coverage in Bangladesh, child health, communicable diseases, non-communicable diseases, and environmental health, were presented at the conference.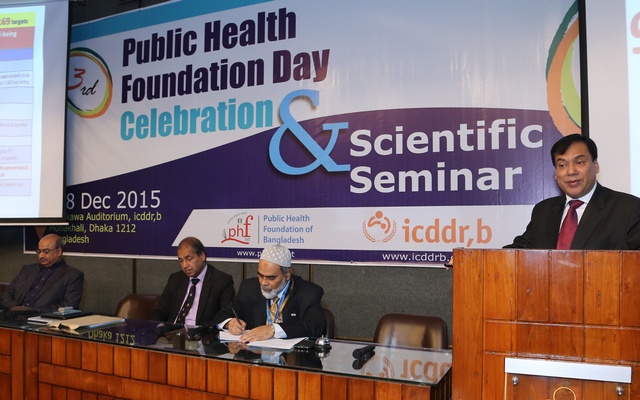 The chairman of the foundation, Prof M Muzaherul Huq, told the conference said that people were not getting necessary healthcare services despite having adequate health facilities, doctors and other necessary workforce in the country.
 
Additional Director General of Health Services Prof Dr Abul Kalam Azad, in his key note address, said, "Healthcare services have to be ensured for all utilising the available infrastructure, facilities and manpower."
 
One of the studies found that 27.6 percent of intravenous drug users (IDUs) share common needles, thus exposing themselves to high risk of infection with communicable diseases like HIV/AIDS and Hepatitis B.
 
Northern University Bangladesh conducted the study among 150 patients in Dhaka this year to assess knowledge, attitude and practice related to Hepatitis B Virus infection.
 
Dr Sazia Huq, who teaches at the Public Health Department of the university, presented a study which showed that 44.7 percent of the respondents practiced polygamy.
 
Among them 61.2 percent did not take any protection during sexual activity, the report said.
 
It also showed about 1.3 percent of the respondents, who experienced blood transfusion, had a history of taking in unscreened blood.
 
The study found that 70.7 percent of the respondents did not take HBV vaccines.
 
Experts at the conference called for creating awareness among people in the active age groups about the deadly communicable diseases to prevent them.
 
Another study conducted among 208 under five children at Dhamrai Upazila Health Complex by Anwer Khan Modern Medical College in June this year found diarrhoea, fever and pneumonia were the major causes of deaths of children.
 
Of the children, 26 percent were found suffering from diarrhoea, 21 percent fever, 16 percent pneumonia, 13 percent common cold and 11 percent malnutrition.
 
A separate study found linkages of infertility with smoking, depression, job stress, hypertension and diabetes.
 
Forty-five percent of the respondents on whom the study was conducted said they were smokers.
 
Of the respondents, 38.5 percent had depression, 37.7 job stress, 36.5 percent hypertension, 26.9 percent diabetes and 24.4 percent family problems.
 
Northern University Bangladesh conducted the study. The university's Public Health Department Head Prof Dr Sarder Mahmud Hossain presented the paper.
 
In another paper, Dr Rajat Das Gupta of BRAC University said efforts to reduce neonatal mortality in Bangladesh had shown 'reasonably consistent and positive results'.
 
"But there is scope for scaling up most effective interventions and also exploring combinations of two or multiple interventions for better outcomes," he added.